The Afternoon Tea Pandemic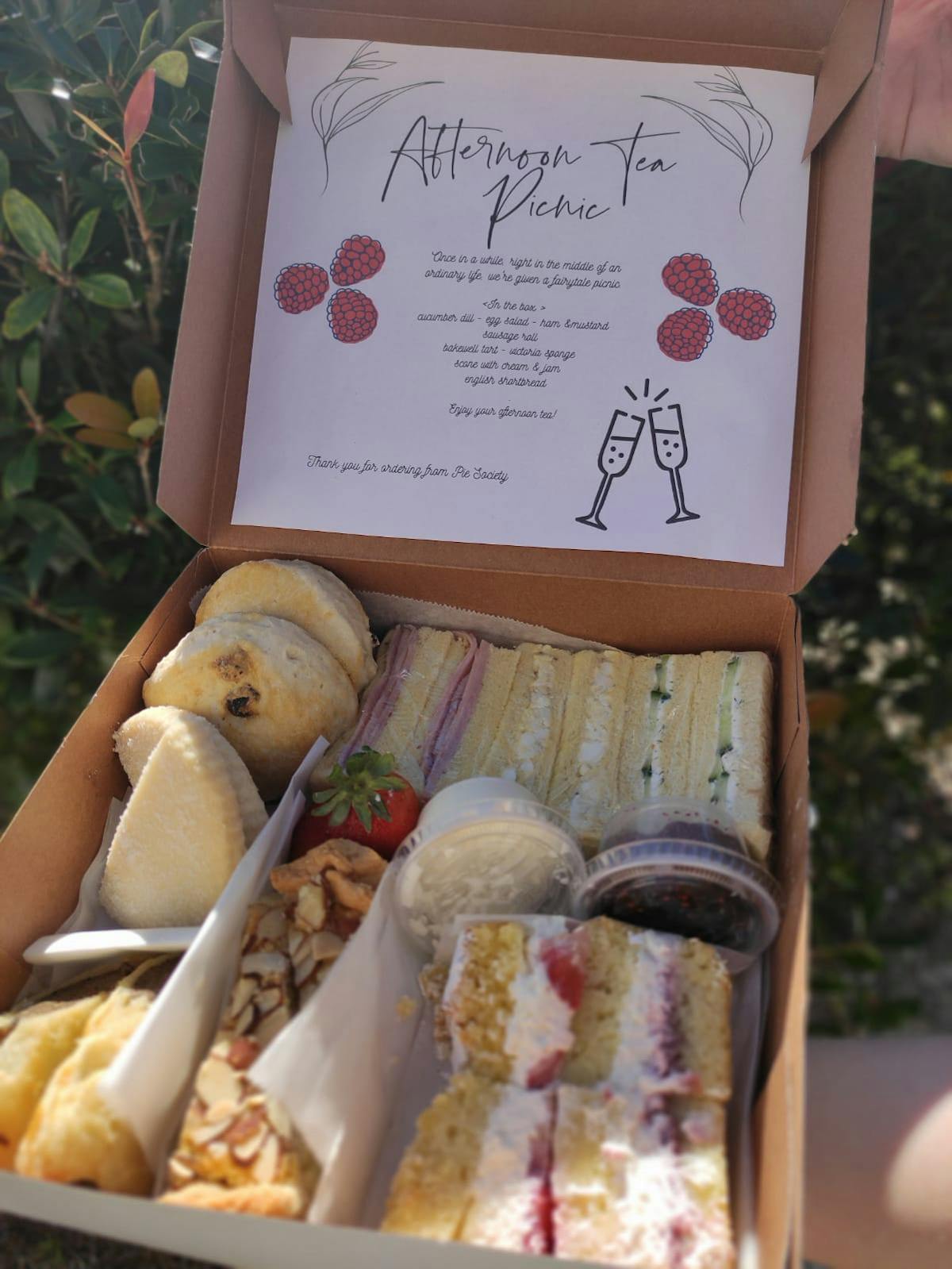 Is there anything more perfectly English than an elegant Afternoon Tea? Finger sandwiches, freshly baked scones topped with clotted cream and jam, miniature cakes and pastries served with a pot of steaming hot tea.
Afternoon Tea has been a regular mealtime in England for centuries and in recent years has seen a huge wave of popularity. Many restaurants and cafes in the UK began to create the most mouthwatering towers of sandwiches and cakes to be enjoyed in beautiful locations, such as Harrods in London and even during a tour of Buckingham Palace itself. So naturally we at Pie Society decided to create our very own quintessentially English Afternoon Tea experience in our Pooler restaurant. Perfect for our British customers who were missing home and our American friends looking for a taste of England on their doorsteps.
In 2020 Covid-19 brought a swift end to dining out for Britain, America and most of the world. In order to adapt to the pandemic requirements, we created our own 'Quarantea' Box- an Afternoon Tea to go! Perfect to enjoy at home or on a picnic in the park. Each box serves two people and includes a variation of miniature finger sandwiches, sausage rolls, slices of quiche, fruit scones with cream and jam, sweet pies and cakes, traditional shortbread and a small selection of Twinings teas. The boxes have been a phenomenal hit and so we are still making them one weekend a month in 2022. Each box is themed, and February is predictably a Valentine's Box, complete with heart shaped shortbread and cherry scones. We often throw in an extra treat like some real British chocolate or sweets!
Our wonderful friend and employee Keely Webster is the master creator of our tea boxes. She works hard every month creating the menu for each box, taking orders and putting them together ready for pickup. Next month we are already planning a Bridgerton themed box to celebrate the release of Season 2 on Netflix! To order an Afternoon Tea box on our next scheduled pickup date, click here and place an order online. Pickup is at our Pooler location at 115 Canal St, Suite 601, Pooler GA 31322. Message us for more info!