Home
Main content starts here, tab to start navigating
Slide 1 of 8
Slide 2 of 8
Slide 3 of 8
Slide 4 of 8
Slide 5 of 8
Slide 6 of 8
Slide 7 of 8
Slide 8 of 8
Quintessentially British Food in Savannah GA
Our aim is to reinvent British cuisine in the US market. We specialize in handmade Meat Pies, Pasties, Quiches and Desserts. As a family, we are constantly developing fresh flavors and ideas to bring new life to our Old School British recipes. All our products are made from scratch in our Bakery in Pooler GA.
Locations in Savannah GA & Pooler GA | Food Truck serving the Savannah area | Frozen shipping direct to your door | Wholesale pies distributed across the US.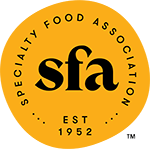 The British Pie Co. has been a member of the Specialty Food Association since 2017.